Locks, Keys, and Technology
We are now living in an age where technology is an integral part of our lives. From smartphones to Artificial Intelligence making our lives more interesting. For example:
And volia, a computer device answers your questions. That surely wasn't possible few years ago, let alone possible to envision over a short decade ago. And, just as finding quick answers can be accomplished using technology, more and more Houstonians are looking for alternative ways to improve the security of their homes and businesses.
What Type of Locks Will Better Protect Your Home & Business
For higher level of security for homes and businesses in TX, there are various options to choose from. The ones you choose will very much depend of the type of door and frame (metal wood reinforced hardened steel amongst others) as well as the level of security you want. Let's first explore common types of locking systems.
Keyed Locks
Keyed locks are usually installed within a door knob or handle, these types of locks operate with a pin tumbler which fits to a small metal key. Once the matching key is inserted, the pins are raised and the door is unlocked. Keyed locks can be installed for residential homes and even offices throughout Texas.
Deadbolts
A deadbolt (also known as dead lock) is a unique locking mechanism which can't be moved to the open position except by rotating the key. Often used in conjunction with a typical spring-bolt lock to provide additional security for homes and buildings. A deadlock, if cylinder operated, may feature either single cylinder or double cylinder. Although a deadbolt may provide additional security, the double cylinder design may raise a safety issue in a sense that if there is a fire hazard, the occupants will not be able to open the door for escaping through double cylinder locked doors unless the correct key is used.
Master Lock Systems
Although the internals and workings of master key systems can be confusing to understand for those who aren't a professional locksmiths, basically, master key system is a lock/key system that allows two or more keys to open one lock.
They are designed to allow strict controlled access using set of keys, each with their own assigned level of access.
For example: a particular resident in an apartment or hotel loses their key, and calls upon the manager who possesses a Grand Master Key which can open ALL the doors within an apartment or hotel locking system. This is a simple explanation of a master key system, because depending on the need, master key systems can have multiple locking systems with various keys opening specific doors while some of the keys only open certain set of locks.
This illustration can also aid in understanding the design of master key system. Below diagram will assist in easier understanding of the design concept of a master key system.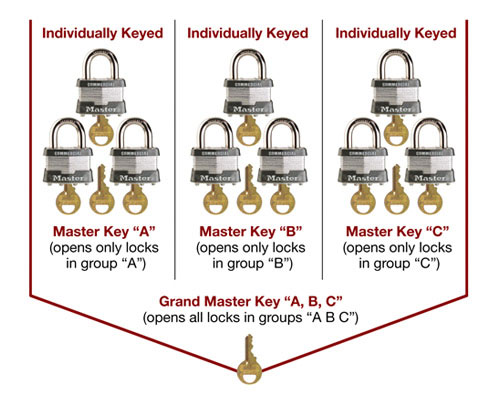 Too Many Keys?
Even if master key systems may seem like having too many keys, the main idea of a master key system actually is to minimize the need to have multiple keys for certain doors. Furthermore, if a key is lost, the number of keys you would need to replace would also be greater without a master key system. Although you do not need to operate a hotel, bank, or a casino to take advantage of master key system, it can be an ideal option to consider dependent on your business security needs.
Speak with a Professional Locksmiths in Houston TX with All Your Security Related Questions
Whether we are talking about upgrading locks and keys to an entire apartment building, family home, or a commercial business in Houston, the level of security and cost effectiveness of managing locks and security is always better using what the latest technology offers. Contact Alamo Key & Lock Master Locksmiths as we can explain how you can better protect your home and business. For all lock and security related questions, call 713-688-3887